I want a humpaloc
It's here. The long awaited humping machine lookalike is finally in town. Surely, most of u all have seen this machine in the shopping complexes. Here we go with the original product. The Osim I-Hump a.k.a Osim I-Gallop.
Put anyone on it, and he/she will gain HUGE ATTENTION.
Some people find this machine really obscene, as it looks like an orgasm machine. Like what they use in japanese game shows to enhance a women's sexyness. For what you all know, this is where the idea was copied from.
Realized that they always use women to bounce on this machine? Actually, in some ways, it really looks like a sey-toy to some. And often, these models often indulge so badly in the humping motion of this machine, to an extent that they look like they are having sex.
So basically, a change in definately needed in the promotion of I-Hump a.k.a I-Gallop. This time, using men to promote this machine. And what do you get?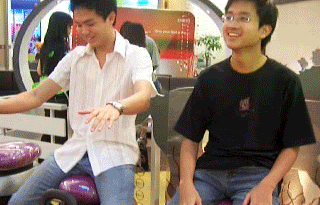 Models taming the beast in the machine.That's me and my friend (Patrick) trying it out at OU.
Here's a clearer shot at what i was doing.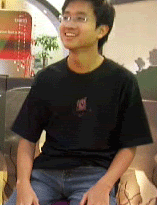 Shaking my booty up and down!!
Here's the full length video.
After the humps given by the machine, i felt great. Honestly, each bump was orgasmic. The only downside is they could have added vibration into it.
Oh besides, never try the machine out in tight jeans. Oh well, i tried it out wearing my boot cut jeans and erm, my testicles were kinda strangled when the machine gyrated up and down. Kinda like putting marbles into a sack, and using the rolling pin to roll it flat.
So anyway, welcome your NEW Osim I-Hump ambossadors.
Till then, out !
p/s: special thnx to patrick for editing the photos !